When DDR4 was first launched back in September 2014 experts predicted that, like previous generations, it will take a good 6-12 months before PC enthusiasts/ gamers will start seriously thinking about installing it in their machines.
So, as it's now been 15 months since its introduction, where are we at with the technology and should it be adopted by gamers and PC enthusiasts?
As DDR4 technology has evolved over the last year or so, prices have plummeted, power consumption has decreased and speeds have risen.
Highlights of DDR4
Speeds of DDR4 start at 2133 MT/s and faster data rates are expected to be available as DDR4 technology matures.
Increase bandwidth by up to 32%.
Faster burst access speeds for improved sequential data throughput.
Available in four channel kits of up to 128GB.
Twice the speed of DDR3
As DDR4 technology evolves, speeds are expected to hit 3200 MT/s, twice as fast as what is currently possible with standard DDR3 memory.
As it stands DDR4 is 30% quicker than DDR3.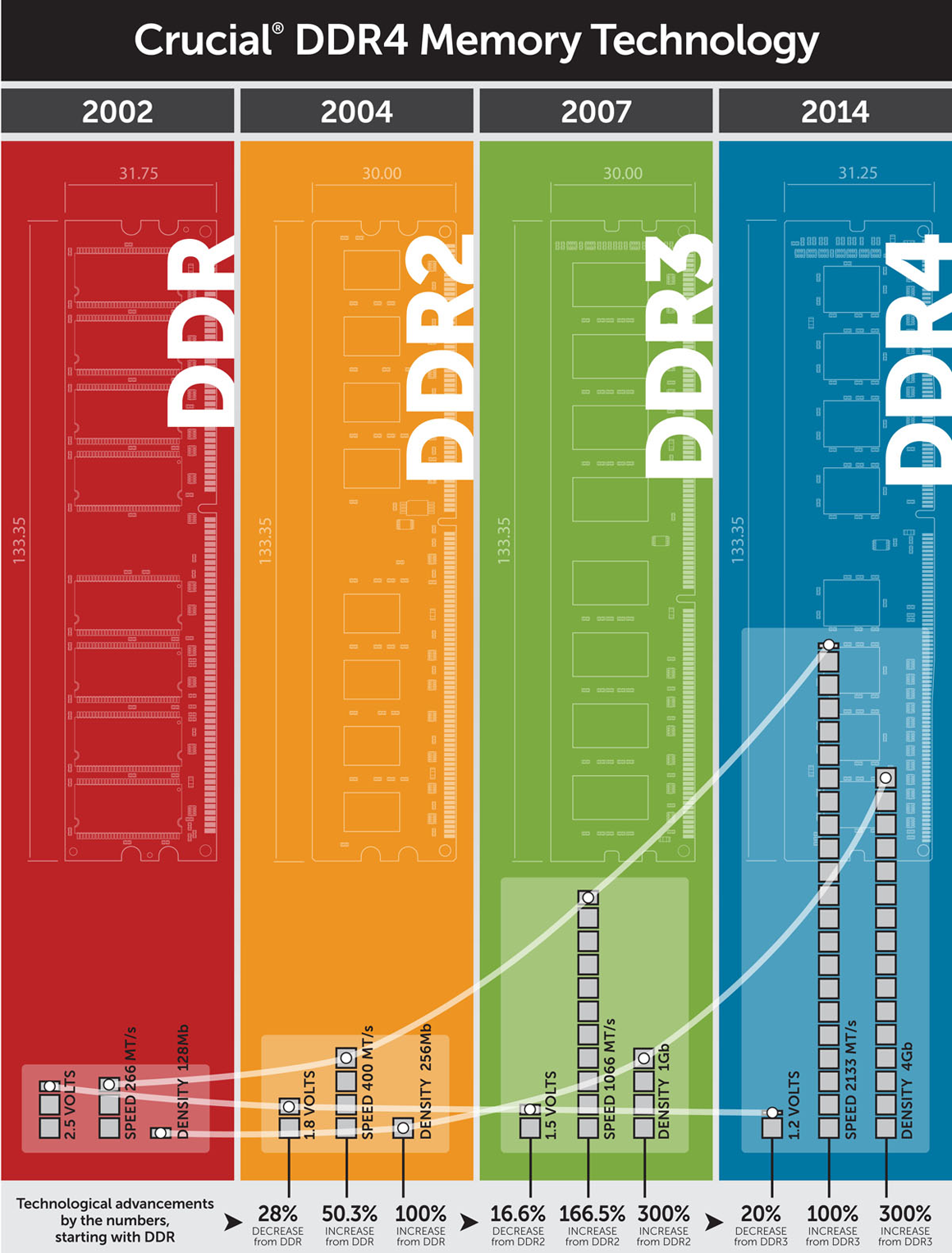 Twice the bandwidth
If you are a big multi-tasker then DDR4 is definitely for you. DDR4 increases memory bandwidth by over 30% allowing your system to handle more data at once. Plus, as the technology matures, bandwidths are expected to achieve up to 25GB/s, twice that of standard DDR3 memory.
40% more energy efficient
You can now get more power by using less voltage. Operating at just 1.2V compared to DDR3's 1.5V you are using 20% less power. Many of the DDR4 manufacturers are also adding other efficiency features that means you could be using up to 40% less power overall.
What do I need for DDR4?
If you're looking to upgrade your machine to DDR4, there is 99% chance that you're going to have to upgrade other components. We'd recommend you having a look at this guide here from Intel that helps you to understand what CPU and chipset you might need.
If you're building a PC from scratch then DDR4 might be your best option if you're looking to future proof yourself. As always, ensure that all components are compatible by using PC Part Picker, plus with prices dropping regularly it's not quite the expense it was 12 months ago.
Summary
The benefits of DDR4 are obvious, so it's just a case of whether or not you can afford the upgrade. If you're building a new machine then it's a no-brainer as you're future proofing yourself from the off and as the technology matures you're most likely going to get faster speeds and lower power consumption.
The most popular DDR4 ram on dabs.com right now is priced at £79.99 for a Corsair Vengeance LPX 16gb (2x8GB) 2666MHz kit. The equivalent DDR3 kit is currently priced at £59.98 for the Corsair 16GBengeance LP 1866MHz.

If you've been using the upgraded memory, what are your experiences with DDR4, was it worth the upgrade from DDR3 for you? Get in touch. 
Check out the full range of DDR4 memory here.